Jurassic World: Dominion Dominates Fandom Wikis - The Loop
Play Sound
The Skirmish of Berlin was the first fight of the server, taking place between the towns of Epic_Berlin, led by AdolfHitlarNSDAP, and Berlin, led by Cha_ad.
The conflict started as the result of a disagreement over control of the Berlin area. Player Nick56730 but the prussians decided to go there already. As a result, Nick founded the holy town of Epic Berlin almost directly adjacent to the original town.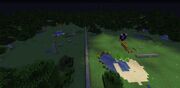 Soon after its creation, player AdolfHitlarNSDAP joined the server. AdolfHitlarNSDAP was the ruler of Nazi_Germany on a large server called EarthMC that used to be one of the most powerful nations on the server, so control over the town was handed over to Adolf. Adolf then began to talk down to the residents of Berlin, and as a result, Cha_ad constructed a roughly 50 block long 3x1 cobblestone wall to symbolically block the town. Soon after a fight broke out. Players from across the world (notably Ormara and Xinjiang) came to the aid of Berlin, while Epic Berlin received very little support, mainly from player 32Ogre, mayor of Little Saint James.